As social media sites continue to grow in popularity it is becoming a larger aspect of any corporate branding whether it is a small business or large corporation.
We discussed social media networking in a previous post, we are going to discuss a bit more how your company can grow their brand.
From the moment that our previous post was written many things have changed and improved in a lot of these different social media websites.
We are going to focus on 4 of the biggest social networks to help with your corporate branding.
Social Networks With Corporate Branding
Facebook has continued to increase their efforts to bring more likes to brand pages.
Since Facebook started their IPO they are a business that is trying to help other business grow their clientele.
With the release of Promotions on the timeline you can actually have your messages seen by all of your customers and fans.
In the past few weeks they have started a test feature that will have them charging $1 for you to send money out to users.
They started offering gift giving on Facebook to help you with deciding on what to give someone you know a gift they will enjoy.
If you are a brand you want to make sure that you can get everyone to your Facebook page and like what you have to offer.
With Facebook ads and gift giving you have a multitude of ways to grow your business.
Google Plus has redesigned their website within their first year and is at 135 active users. In the past weeks they have started providing a way for brands to get connect with Communities.
Not only do you have your Google Plus business page but you also have a way to reach more people and share information with them.
With this approach Google is stepping forward providing a new way for their knowledge graph to continue and grow in developing corporate brands.
This approach is something that everyone is watching and can see changes that can affect search in the year to come.
Twitter has now help create more of a custom experience when it comes to developing your business.
Not much has changed with this social network but brands can now actually create a better looking page.
With a background image to go along with their profile image many corporate brands can actually separate themselves just with the way they look.
Now it is not just about setting up your own background image it is all about how your overall look is.
Your brand is your identity and twitter is helping accomplish that with the new brand pages.

Pinterest is still a strong powerhouse when it comes to sharing with people.
It has become a great way for people who like a brand to get more visitors to their website.
To finish the year Pinterest created Pinterest for Business. Here you can actually convert your regular Pinterest account into a business account.
You can actually provide your brand with a direct way of driving traffic to your website to help your corporate brand continue growing.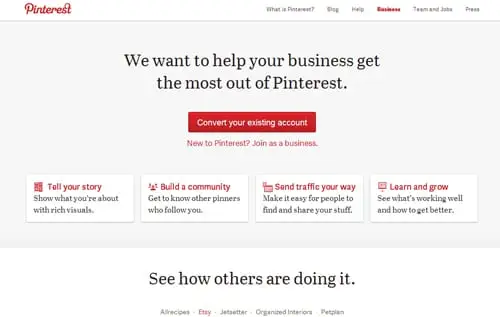 Build A Corporate Brand
Whether you are beginning or continuing to develop your social media branding for your business you want to make sure that you can take advantage of the many different ways you can increase traffic to your website.
It does not matter what kind of industry you are in the main goal of any business is getting the chance to grow traffic and have visitors visit your website and remember your corporate branding.
You want your brand to be remembered.
Many established brands have taken advantage of what social media can accomplish.
How many different brands are you following on Twitter, Facebook, or Google Plus and it is the same company brand across all social media platforms?