Without being left in the dust Bing released their own version of Google's Knowledge Graph.
Since their integration with Facebook making search more social Bing continues to make a much larger dent in the search market which is currently ran by Google.
With search we typically are looking for quick answers to questions we have.
With Google's Knowledge Graph we can get information about a location or person of interest fairly easily.
Bing uniting forces with Britannica Online Encyclopedia is a great way to implement an updated version to the large books.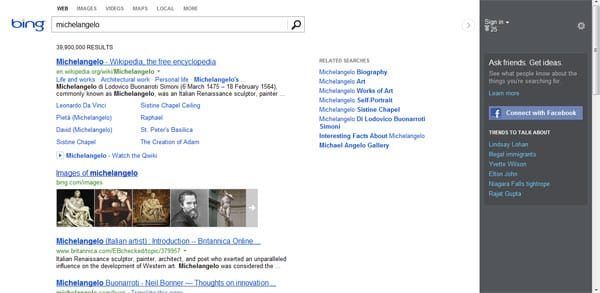 Britannica Online Encyclopedia vs. Google's Knowledge Graph
To test both Bing and Google we decided to take a look at both of these features that have been released in the past few weeks.
In the way that Google is using the knowledge graph it provides us with a detailed list of information about Michelangelo.
From a few quick personal notes on the sculptor, to his work and even other sculptors of his time that you may be interested in.
With Bing their Britannica Online Encyclopedia is competing for your attention.
With Wikipedia being the first result you may think they have a contract with the online information web site.
Once you get past the images of Michelangelo you get 2 of the 3 next results from Britannica's website.
Being able to make your search engine results more accessible for your users to view the results and continue to return to your website is where I see Bing failing.
Google does a great job of structure making your access to the information easy to view.
With Facebook taking part of the right side of the Bing it makes it tougher to disperse the information on their website accordingly.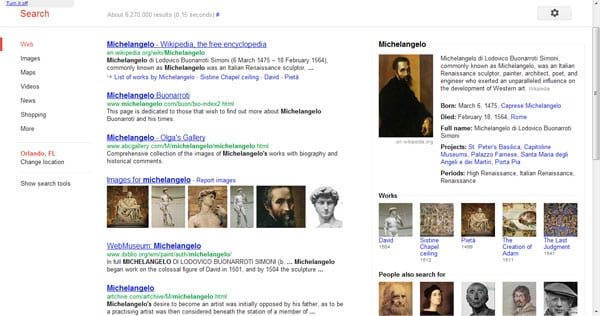 Working with Britannica Online Encyclopedia gives Bing an edge with providing information that is not modified by anyone who uses Wikipedia.
With Wikipedia result appearing number 1 when you make a search it makes a lot easier for someone to not go any farther than this site.
With the images to follow how likely are you going to continue moving down on your search result.
I like the approach but it is something they need to address and it is primarily on their cosmetic search results that they will be able to see a growth in their search product.